OpenVZ vs KVM VPS Netherlands: The Difference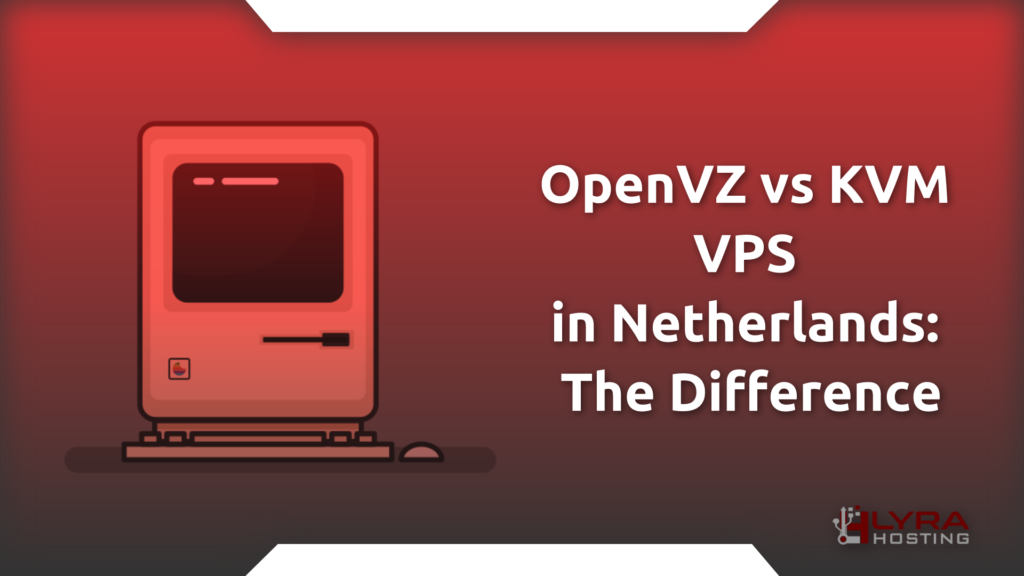 ---
Introduction to VPS Solutions provided by LyraHosting
If you are searching for VPS hosting, you could feel overwhelmed by the numerous different platforms and possibilities that are now accessible to you. This is especially true if you have many options to choose from. Even at Lyra Hosting, we provide various VPS hosting options, such as the Forex VPS, the VPS KVM for Windows and Linux. All of these VPS solutions are powered by solid-state drives (SSDs). Each one is available at a different price and comes with its unique collection of advantages and disadvantages.
Main difference between OpenVZ and KVM
To begin, the most fundamental distinction between OpenVZ and Kernel-based Virtual Machine (KVM) appears that only host supported Linux operating devices such as Ubuntu,and SUSE Linux Enterprise Server (SLES), and vzlinuz are supported on OpenVZ. In contrast, KVM is more adaptable and therefore can host custom OS options, Windows, and Linux. Additionally, the Linux distributions are known as Debian, SUSE Linux Enterprise Server (SLES), Fedora, and Ubuntu.
What is OpenVZ Virtualization
OpenVZ is container-based virtualization for Linux that adds a virtualization layer on top of the Linux operating system itself. It uses a common kernel and adds a layer of virtualization on top of it. Because operating-system-level virtualization makes it possible to share the use of a large number of core components, it is sufficient for such components to be installed just once on the host machine (like the identical kernel). Each container acts and operates in a very similar manner to that of a stand-alone server. These similarities include the fact that each container has root access, users, IP addresses, RAM, processes, files, programs, system libraries, and configuration files. A container may also restart on its own, and it has complete authority over the RAM that is allocated to itself.
How does LyraHosting's Storage VPS work
SSD storage of an enterprise-grade is included in the most current version of Lyra Hosting's superfast SSD Managed OpenVZ VPS servers. This ensures that business and professional applications will have the highest possible level of performance. Each virtual machine (VM) has its own private virtualized hardware, including its kernel version, storage, network interface, graphics adapter, RAM, etc. We provide this hardware. Virtual machines (VMs) can also execute their applications and operating systems. Because the virtual machine (VM) has its own virtualized hardware, it will function in a manner that is fully independent of the host node and entirely on its own.
What is KVM Virtualization
KVM is a comprehensive virtualization solution that enables Linux and Windows virtual machines (VM) to cohabit and run concurrently on the same piece of hardware. This is made possible by KVM's ability to create a virtualization bridge between the two operating systems. Each virtual machine (VM) has its own virtualized hardware, including its kernel, network card, disk, graphics adapter, etc. This hardware is known as the VM's own virtualized hardware. This is a genuine implementation of hardware virtualization, which implies that the limitations imposed on the hypervisor are significantly reduced, which in turn leads to an increase in performance. Each virtual machine (VM) is allocated one hundred percent of all of the RAM and storage space currently available. KVM is a virtual machine software that makes the host environment more secure and gives each virtual machine its kernel.
How does LyraHosting's Offshore Linux VPS work
With Lyra Hosting's Superfast SSD Managed KVM VPS, the end-user gets access to quicker speeds and greater scalability, and the service is also more cost-effective. Learn more about our most current V5.1 Virtual Private Servers, which are built on the KVM platform and can be accessed in just a few clicks. These servers are equipped with autonomous functions, such as the capacity to reboot and carry out OS reinstallation on your own. You may make use of a Virtual Private Server that is blazingly fast owing to the utilization of solid-state storage (SSD).
LyraHosting's provide the best VPS configuration setup
Once your OpenVZ or KVM has been installed, we will ensure that you can utilize them instantly without any further configuration on your end. This is something that we will take care of for you. On the other hand, it is conceivable that to fulfill the needs of the application or your website, and you will need to configure your virtual private server (VPS) or install extra software.
LyraHosting promo code
When you are ready, browse through our most recent VPS alternatives, and when you do so, you will be able to take advantage of the fantastic discounts that are now available.