Website hosting is an essential part of having a website. You need someone to host it for you. We understand that not everyone is comfortable sharing all of their information with a website host. That's why we offer bitcoin hosting for our users.
We respect your privacy and understand how much you value it. Rest assured that we appreciate it just as much as you do, and we will never collect or mishandle your information. To that end, we offer bitcoin server plans for customers. Our offshore bitcoin servers are the perfect choice for anonymous website hosting. Our system lets you protect your identity and remain anonymous by paying for your bitcoin VPS using bitcoin payments. Virtual currencies like bitcoin are huge news right now since virtual currencies are not controlled by a bank or other central authority. Bitcoin payments aren't tied to a particular jurisdiction or government, meaning they aren't connected to you, and no one will know who you are.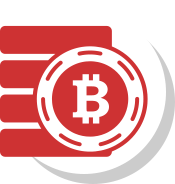 You can rest assured that your website and all of your information are in safe hands. Not only do we take steps to protect your privacy and secure your website, but we also deal with high-class infrastructure and domain registration for servers. We take your protection and privacy one step further with our datacenter in the Netherlands. We firmly believe in freedom of speech and people using the internet; however, they see fit. We use offshore hosting to provide anyone with the anonymous hosting they need.
You may be surprised at how reliable, affordable bitcoin hosting is. Even our shared hosting plans come with DDoS protection, 99.99% server uptime, and a choice of up to 8 offshore locations for the server. We also include Plesk and cPanel control panels for users to control their website. It's easy to get invested in bitcoin web hosting when you have a fantastic quality server at an affordable price. Try our shared hosting plans for a more affordable option if you are comfortable sharing hosting space with other users.
Our bitcoin VPS servers are powered by SSD hardware to give you the resources and scalability you need for your website. You can use your Bitcoin Virtual Server to create a fast and reliable website you can depend on. Our hosting services allow you to develop and deploy websites quickly and with complete anonymity. Our servers are also highly secured against attacks and other problems, giving you total peace of mind when choosing our bitcoin hosting services.
Our Offshore Dedicated Servers Keep You Up and Running – No Matter What Whether using your server for bitcoin or just want more privacy, an offshore dedicated server keeps your online business safe by making it more difficult for governments or other authorities to touch. In countries experiencing censorship or the repression of free speech, an offshore dedicated server ensures your safety and connectivity to the world.